What is PATS?
PATS is an acronym for Parts Acquisition and Tracking System and is NEI's newest web-based vehicle parts procurement and management system for the US Air Force. PATS helps manage vehicle maintenance shops more efficiently by reducing man hours to accomplish routine tasks and by organizing information into a single source. Best of all, PATS is an easy-to-use, fully supported FREE program and requires minimal training. Self-training tutorials are available online or you may choose to call NEI to walk you through the program.
What does PATS feature?
PATS supports three user levels, each offering unique and shared functionality. The three user levels are Shop User, Material Control, and Super User (for Superintendent levels). All three levels share the ability to view information such as the working stock list, vehicle list, supplier list, residue, and parts purchase history and waivers for each vehicle.
Aside from viewing data, the only function available for shop users/mechanic is to create a parts request and submit to a higher level of authority for approval. Shop users cannot submit an order to any supplier.
Material Controllers can manage requests submitted by shop users, ordering the requested items either from NEI (provider of the PATS program), from working stock, or from other suppliers previously loaded into the system. Other options are to change the status of items or orders to disapproved, already received, or cancelled.
How does PATS work and how is it different from previous NEI programs?
NEI's previous programs are traditional web applications. Although PATS is web-based still deployed through a web browser, the program is a new breed of application referred to as an RIA (Rich Internet Application).
Attributes of an RIA provide a more fluid, information-focused user experience, is browser and operating system independent and, in many ways, works like a traditional desktop application. PATS avoids the latency of round-trips to the server by sharing the processing between both NEI's server and your computer.
There is nothing gratuitous in terms of design. PATS's design approach is a mix of simplicity and elegance, providing function and a good user experience over flashy graphics and branding.
Why should I use PATS?
To say that you save time and money sounds like a cliche these days but there is no better way to put it. With PATS, you do reduce man hours required to source parts and the recordkeeping alone increases overall efficiency beyond measure.
Save man hours
Reduce Costs
Accountability of working stock
Order tracking
Accurate consumption data
PATS is Designed with YOU, the customer, in mind. The program matches the real world and speaks your language, using words and phrases familiar to you. PATS originates from an abundance of customer feedback and over 14 years of experience in designing, developing, deploying, and managing web-based vehicle parts procurement applications. NEI designed PATS with an emphasis on the tasks and workflows you go through to accomplish your mission. Our intention in developing PATS was to provide a system that increases efficiency and helps users complete their work faster and easier.
How do I get started?
Getting started first requires an assessment of how you plan to use PATS. There are many functions in PATS and you can choose to use all or some of them. The typical process requires that we obtain your vehicle list and working stock list to load into the system. Please contact NEI to help you determine how best to implement PATS.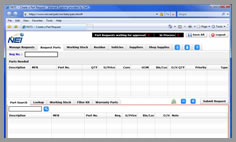 PATS is a program loaded with functionality specific to your needs, and includes:
Visibility of all parts requests and their status
Vehicle specific parts lookup catalog
Online pricing for most OEM and Aftermarket parts
Inventory control to manage working stock
Manage residue stock
Funds tracking
Track all purchases from a single interface
Access vehicle parts history
Repair waiver system
Build PZ transactions for OLVIMS for all parts purchases (Air Force)